Kia's Little Baby - Driving impressions of the Kia Picanto 1.1
Small cars always amused me. I remember in my second year of college I used to putter about in my sister's Perodua Kancil. To those unfamiliar with this brand, the Perodua Kancil is manufactured by Malaysia's second national car manufacturer and is essentially a mildly reworked Daihatsu Mira. This car is small. Think oven-toaster small. Space was always at a premium with this car and sitting in it made me feel like the car had all the crash protection of a crisp packet. Powered by a lawn-mower of an engine (a pint-sized 660cc motor), the little Kancil was cramped and uncomfortable for long distances, but it excelled in being exactly what its designers meant it to be – a nimble little city runabout.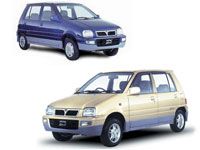 The dimunitive little Perodua Kancil

As much as I loved the idea of such a runabout, there was one serious flaw – I barely fit in the darned thing. Small cars no matter how adeptly suited to their environment will always be suited to smaller people. Driving the car, my knee was perpetually wedged between the steering rim (non adjustable, mind you) and the gear knob, which made engaging 5th gear all but impossible on the car. Pulling out of junctions required a peep out the REAR nearside window because the driver's seat was pushed so far back the B-pillar of the car was directly in my line of sight.

I pretty much stayed away from such cars after my bout with the little Kancil and kept my rides to "real" cars – cars that occupied a little bit more roadspace than a postage stamp.

But recently, I was coaxed into taking a spin in a friend's recently-acquired car, the niftily named Kia Picanto. In the past few years, the little Korean car maker has been making leaps and bounds in its design and manufacturing capabilities, thanks to the takeover of the ailing company in the late 90's by Korean giant, Hyundai. Now safely ensconced in the Hyundai Group, Kia has taken the role of providing affordable models while its parent company moves slowly upmarket to compete with the Japanese giants such as Toyota and Honda.

The Picanto is Kia's first foray into the supermini category of cars. Hugely popular in European markets, thanks to their narrow streets and demand for more nimble, economical cars, the Picanto was designed specifically with that market in mind, and it shows.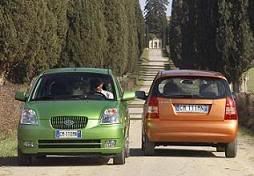 The Kia Picanto - odd little grille on the front

From the outside, the Picanto has a very pretty shape. Large headlamps flank a somewhat oddly-shaped grille, which is the only jarring styling element in an otherwise harmonious design that stands out from the crop of characterless cars that are common in this category. The car I was lucky enough to test was painted in a bright red hue and it looked really cute. The Picanto is also available in several other bright, youthful colours like copper, apple green and yellow. Models sold here in Malaysia come standard with alloy rims, which I feel are an awful mismatch for the car, as they are painted in a shade of gunmetal grey. This sort of colour would suit a sports car like a Lotus Elise, but when applied to the cute Picanto, it looks sorely out of place.



Another view of the little Kia, in a very nice shade of green. Local spec cars have awful grey rims instead of the stylish white ones pictured here

Getting into the car is easy, thanks to the high hip point of the car, allowing occupants to slide in rather than drop their bottoms into the car. One thing struck me immediately was the spaciousness of the cabin, at least up front. I stand a pretty lanky 6ft 3in and my build would make Jabba the Hutt proud – and most times, cars this size barely accommodate me. I always feel squashed. In the Picanto, there was enough space around me to suggest I was in a much bigger car – it was at least as spacious as the front seats of a Hyundai Elantra, which is a car from two classes above the Picanto. Kia makes a big deal about the Picanto's accommodations, and for once, the manufacturer hype isn't misplaced. As long as you stay up front, a 6-footer will be very happy. There's more than enough leg and headroom for you to lounge about and I can easily imagine staying comfortable in this car's front cabin even over extended drives.

What's not so good though is the rear legroom. It's about average for the class, and if anyone taller than 5ft 9in sits up front, only children and very small adults would fit in the back. Luggage space is about enough for 2 duffle bags with the rear seats up, extending to a pretty respectable 882 litres (more than a Proton Waja's luggage space) if you fold down the back seats and load the car to the ceiling with luggage.



Nicely damped actions of controls suggest high quality materials and construction

The fit and finish of the car, from its smooth, well applied paint, to its narrow shutlines on body panels, to its soft-touch plastics in the cabin spoke of an attention to detail that is shocking for this price. In fact, the RM46k Picanto felt heaps better put together than the RM75k+ Proton Waja that I've been puttering about for the past month or so. Buttons and knobs clicked with damped precision and plastic parts matched up perfectly beneath razor thin joints that would not look out of place in a car costing at least 3 times the Picanto's price. Equipment levels are very impressive too, the Picanto packing in dual front SRS airbags, electronic brake force distribution and anti-lock brakes.

The Picanto is powered by a 65bhp 1.1 litre 12 valve 4 pot engine. Not the most powerful of engines, but in this application, it is should prove adequate – afterall, the Picanto weighs in fully equipped at a lightweight 852kg's. This engine can be paired with either a 5 speed manual gearbox or a 4 speed automatic transmission, and the car I drove was fitted with the latter transmission.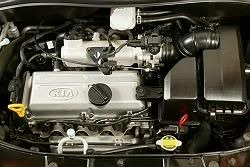 The 1.1 litre 65bhp engine that powers the Picanto

Started up, the engine hums along quite silently, and is virtually inaudible from inside the cabin. Small vibrations inherent in a 4 pot engine with no balancer shafts does get through to the steering column though, but in all honesty, this is a common trait even in cars costing twice as much as the little Kia.

On the move though, the vibrations get smoothed out, but it's replaced with a coarse drone from 3,000rpm onwards. The little motor obviously struggles with the amount of mass it's asked to shift. With 3 adults on board, and a torque converter in the transmission sapping up valuable horsepower, the engine felt laboured when pulling away from standstill. I have doubts this car will make it up steep inclines in the highlands, for example, where even the 118bhp 1.8 litre motor in my long-term Proton Waja felt laboured.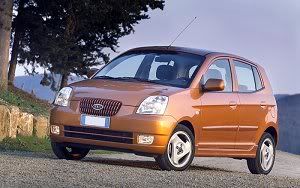 Another view of the Picanto - odd front grows on you after a while

Acceleration is tepid, though entirely acceptable for a car that was designed with slow city traffic in mind. In all honesty the Picanto's nearest competitor, the Perodua Kelisa, which is equipped with a 1.0 litre engine putting out about 55bhp but weighing almost 100kg's less, feels just as mild when asked to scoot away from the lights. It eventually gets to 100km/h in about 18 seconds or so, according to our impromptu acceleration tests, and tops out at about 145km/h, as indicated on the car's speedometer, where the little Kia starts to feel like too much is being asked of it. The combination of a little engine screaming its lungs out close to its redline, wind noise and tyre rumble positively discourages drivers from maintaining this sort of pace in the car. Cruising at 110km/h seems fine though, with road and engine noise kept to within reasonable standards of the class. I didn't get a chance to put the car's economy to the test, but the owner assures me that he's done over a week's worth of daily commuting to the tune of 70km a day on a tankful of super unleaded. That's impressive economy at any rate.

What impressed me even more than the frugality of the Picanto was its ride quality. Cars with wheelbases this abrupt have no right to ride this serenely. The little red Picanto I was in soaked up all sorts of bumps and ruts with considerable poise and was never overtly flustered by potholes that are standard fare in the streets of Kuala Lumpur. Soft, absorbent ride ensures occupant comfort that Kia genuinely should be proud of. In fact, the ride comfort of the Picanto easily beats that of the much, much larger Sorento SUV from Kia. Where the large SUV would bounce and lurch uncomfortably, suggesting inadequate damping, the little Picanto just takes it in its stride and always stays calm and composed.

At silly speeds though, the soft, pliant suspension exacts a toll as the car is easily thrown off course by small bumps in the road. We also found that the Picanto was very sensitive to cross-winds, something drivers should be aware of. Driving on the highway, gusts of wind to the side of the car could easily be felt pushing the car off course, no doubt caused by the car's rather slab-sided body.

The suspension also bottoms out readily when fully laden, and enthusiastic cornering is best avoided as the tall body of the Picanto readily leans into corners, understeering pretty early and rolling onto the sidewalls of its outside front wheel at relatively modest cornering speeds, threatening to take the nearest guardrail along for the ride is the driver isn't cautious of the car's limits.

The little Kia's driver will certainly also not appreciate the woolly steering. The power assisted tiller lacks feel, and never really encourages you to explore the car's handling. The driver is never fully aware of what the front wheels are doing, but truth be told, its normal for this class of car. Expecting a razor-sharp helm is perhaps too much to ask from what is still essentially a budget city car.

As package, the little Kia is an amazing car for its price. It has the quality, equipment levels and ride comfort of a car much larger in size and price yet remains awesomely affordable. If you don't really need the rear seat space to lug around the wife, 2.5 kids and the golden retriever, the Picanto represents a brilliant buy. Definitely worth having a look, but if you want one now, you better be patient, because nationwide waiting lists run longer than that for the BMW 5-series. Kia is quoting 3-6 months for delivery – and for once, I feel that waiting list is there for a really, really good reason.