Music on-the-go - MSI Mega Stick
MP3 players are now all the rage. It was the iPod that made the MP3 player a fashionista's must-have accessory and other makers of similar devices have been capitalising on this phenomenon as of late.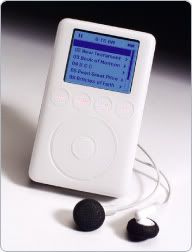 The iconic Apple iPod that started the MP3 player craze

Such players can be divided into 2 general categories - the hard-disk based players such as the iPod and Creative's Zen range of 15-60GB players, and the flash memory based players which use solid-state memory to store between 128MB to 256MB of music.

Hard-disk based players offer copious amounts of memory capacity for users, often allowing one to store virtually all of one's CD collection in one single device. 20GB on an iPod itself is sufficient for almost 10,000 songs. I doubt even I have that many songs in my entire music collection. Creative's Zen Xtra goes one step further by offering a phenomenal 60GB version of its popular player. Thats massive amounts of music in a device no larger than a pack of cigarettes.



Creative's Zen Xtra which offers a mind boggling 60GB of memory

But the downside of such players is mainly cost. In Malaysia, the iconic iPod retails for almost RM 1,500, which is a lot of money for most people. The Creative Zen range retails for slightly less, but even in its cheapest versions, are a few hundred Ringgit north of the big 1k.

Hence the increasing popularity of solid-state players like Creative's MuVo which offers decent memory capacity for a lot less money than the iPod and its hard-disk based brethren. Offering between 128MB and 256MB of memory, these players can store between 30-40 songs (dependant on the size of the file), enough for the weekend warriors to load up on favourite music for the gym or a weekend away with your must-have tunes.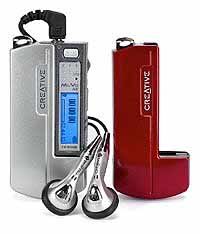 Creative's MuVo solid state MP3 player

Solid state memory is cheap, and hence players like the MuVo retail for less than RM800. And as an additional bonus, these players are very resilient to rough treatment since they have no moving parts to damage, unlike the tiny hard-disk mechanisms of the iPod which don't take too kindly to being roughed up. Drop a solid state player and you'll likely have no more than a few scratches. Do the same to an iPod and you'll likely be paying a visit to your friendly Apple store for repairs.

Part of the growing family of solid state players is the MSI Mega Stick. Odd name, that, sounding more like an "adult" toy rather than an MP3 player, to be honest. For those who haven't heard of the manufacturer, MSI ("Micro Star International") is a Taiwanese electronics manufacturer that makes everything from computer boards to consumer electronics like stereos. The Mega Stick is their latest offering in the fast-growing market for affordable MP3 players.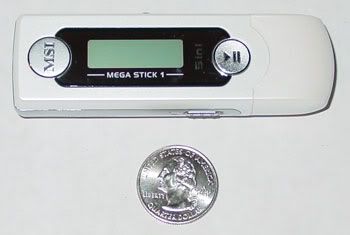 The tiny Mega Stick from MSI

The Mega Stick is available in 128MB and 256MB incarnations, and costs a reasonable RM280 for the 128MB version and RM330 for the more capacious 256MB model. Prices of course, differ from dealer to dealer by a few Ringgit, but either way, they represent tremendous value for money. After deciding pointedly that the music selection at my gym was no longer condusive for my health, I acquired one of these players for my own use, and I must say, I was most surprised at the performance of this little player from Taiwan.

The Mega Stick trumps most of its rivals in its price range for features, offering MP3 playback (it is compatible with WMA files), a voice recording function, an FM tuner and it also has the ability to store files, effectively turning the Mega Stick into a thumb drive.

The Mega Stick is a simple design, clad in the now-compulsory iPod white. On its front fascia is a simple button for power, play and pause functions. Press once to turn the unit on, press again to start playback and once more to pause playback. On its side, are buttons to activate the voice recording and the FM tuner functions as well as a jog dial that controls the players fast forward/review, track skip and FM tuner frequency search functions. Flip it over to its other side and there's a slide switch to activate the keylock function that deactivates all the controls on the player. On top is the headphone jack and in-built microphone and at the bottom of the player, protected by a snap-on cap, is the USB connector.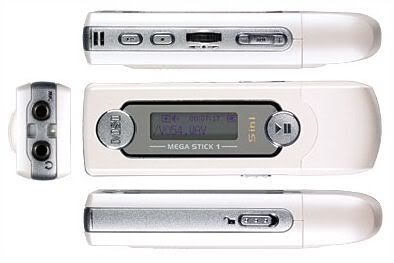 Simple control layout on the Mega Stick

Fitted with a single line blue-backlit LCD display that displays battery life, current track in play and playback status, the player is extremely easy to use and one needn't have a degree on rocket science to figure out the player's functions.

The Mega Stick ships with a pair of headphones (integrated into the unit's snap-on neckstrap), a USB wire (for hard-to-reach ports) and a CD containing the necessary driver for PC users using anything less than Windows 98. On anything above Windows 98, the Mega Stick is completely plug-and-play compatible.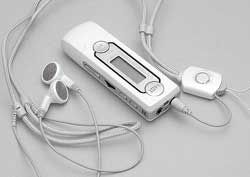 The Mega Stick and its neckstrap headphones

Getting started with the Mega Stick was a simple affair. Pop in a single AAA battery, turn it on and plug it into your PC or laptop. Automatically, my laptop recognised the player as an external USB device. Open Windows Media Player and start copying your music of choice to the player. A point to note is that the Mega Stick arranges files alphabetically, so songs are listed and played back in that order. With no ability to create playlists on the go, it may be wise to change your file names if you want your songs to play in a particular order. I ended up adding an alphabet in front of my song titles to force the player to play the tracks in the order I wanted.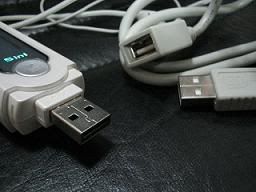 Just plug in this connector to your PC and you're ready go

Once full, I plugged in the headphones and started playback. The Mega Stick has a 5 setting sound equaliser, offering Normal, Jazz, Rock, Pop and Classic settings. Jazz proved to have the best balance and I was pleasantly surprised with the quality of sound pumped out by the little player. It won't win any fans amongst audiophiles, but it was no worse than the sound quality from far more expensive players such as the Creative MuVo. Bass was a bit crackly when played at high volumes but otherwise the little player did justice to tracks ranging from the thumping bassline of Kylie's "Can't Get You Out Of My Head" to Kate Ryan's dreamy techno number, "Desenchantee". Even rock numbers such as Linkin Park's "Faint" played at incredibly high volumes without distorting. Amazing stuff, considering the price of this player.

Downsides of this player? Well, the cheap plastic casing of the player has already picked up nicks and scratches, especially on the mirror-finish display surface. The LCD display washes out in bright light and the blue backlighting sucks up a lot of battery power. Turning it off almost doubled the battery life of the player. I got almost 8 hours of playback time with the volume at three-quarters most of the time and the backlight turned off. FM reception on the in-built tuner is crackly at best, and gets progressively worse in built up areas as the tuner seems to have difficulty locking on to stations.

The build quality of the headphones are also suspect, as my original pair gave up after a week's worth of gym-based work. The left earbud fell silent and refused to make a peep despite all my efforts to coax it back to life. They were replaced under warranty though, and the new pair seem to be standing up to abuse pretty well. The earbuds don't really fit my ear very well either, but thats more of a peculiarity of its owner than any fault of the design. Swapping the original headphones for more expensive units, I plugged the player into a pair of Audio-Technica headphones, and whilst the sound was hugely better, with deeper bass and clearer highs, the player struggled to power the large headphones, with its playback volume suffering badly.

Overall though, for what I use the player for, it represents excellent value, packing in a weekend's worth of gym tunes for not a lot of money. If you don't need the capacity of a hard-disk based player like the iPod, the Mega Stick makes a compelling case for itself. It can match, if not better, rivals from more established names at almost half the cost. Now who doesn't love that?